Bullying in the workplace and its impact on enhancing employee burnout
An exploratory study of the opinions of a sample of employees at the University of Zakho
Dalia Roael Dawood

Department of Administrative Sciences, Faculty of Administration and Economics, University of Zakho, Kurdistan Region - Iraq.

Jotiar Hassan Kochar

Department of Administrative Sciences, Faculty of Administration and Economics, University of Zakho, Kurdistan Region - Iraq.
Keywords:
Bullying in the workplace, Job burnout
Abstract
This research seeks to determine the role of the dimensions of bullying in the workplace in promoting job burnout among employees. The University of Zakho was chosen as a field for implementing the practical side. The research was based on a set of main and sub-hypotheses, which were field-tested on (72) of the researched employees. The data was collected through a questionnaire form prepared for this purpose, depending on the analytical and statistical methods available in the (SPSS V.24) program to analyze the correlation and influence between the research variables. The research outcome was to reach to several conclusions, the most important of which was the existence of a positive moral correlation for the independent variable represented by bullying in the workplace and the dependent variable represented by job burnout, as well as the presence of a significant effect of the independent variable on the dependent variable. In light of the conclusions reached, the two researchers presented a set of suggestions, the most important of which is the necessity of ensuring the provision of a supportive and positive organizational climate at work by providing supportive and effective leadership that places employees among its most important priorities.
References
المصادر باللغة العربية
1.ابوغزال،معاوية، 2009، الاستقواء وعلاقته بالشعور بالوحدة والدعم الاجتماعي ، المجلة الاردنية في العلوم التربوية ، المجلد الخامس، العدد الثاني، عمان، الاردن
2.الدليمي محمود و عبدالله ، حسين ، 2018، تاثير الاستقواء في مكان العمل على سلوكيات العمل السلبية : بحث تحليلي استطلاعي لاراء عينة من العاملين في المستشفيات الحكومية في محافظة كربلاء ، مجلة الادارة و الاقتصاد ، المجلد السابع ، العدد السابع و العشرون ، العراق.
3.الفتلاوي،ميثاق هاتف ، حسين ، سحر عباس، عبد ، علي و محمود، فهد ، 2016، العلاقة بين سلوك الاستقواء في مكان العمل و الاحتراق النفسي : بحث تحليلي لعينة من اساتذة كلية الادارة و الاقتصاد جامعة كربلاء، المؤتمر العلمي الحادي عشر ، كلية الادارة و الاقتصاد ، جامعة كربلاء ، المجلد الاول .
4.الحايك،هيام،2000، مستويات الاحتراق النفسي لدى معلمي الحاسوب في المدارس الحكومية الاردنية ، رسالة ماجستير غير منشورة، جامعة اليرموك ، عمان ، الاردن
5.الطلاع، سليمان، 2015، واقع الاحتراق الوظيفي و اسبابه لدى العاملين في شركة توزيع كهرباء محافظة غزة، سلسلة العلوم الانسانية ، جامعة الازهر ، كلية الدراسات المتوسطة ، المجلد الاول، العدد الثاني
6.ادعيس،الاء حمدي، 2012، العلاقة بين تطبيق تكنولوجية المعلومات والاحتراق الوظيفي في شركة الاتصالات الفلسطينية من وجهة نظر العالمين-دراسة حالة، رسالة ماجستير منشورة ، جامعة الخليل ، فلسطين
7.جبر، نهاية ، 2016، الاحتراق الوظيفي و العوامل المسببة له لدى العاملين في الصحة النفسية في وزارة الصحة في الضفة الغربية ، رسالة ماجستير غير منشورة ، جامعة القدس ، فلسطين .
8.منصور، لنا حسن محمد ، 2013، الاحتراق الوظيفي وعلاقته بالمساندة الاجتماعية لدى الموظفين الاداريين في مديريات التربية و التعليم محافظة الخليل ، رسالة ماجستير منشورة، جامعة القدس المفتوحة ، كلية الدراسات العليا ، فلسطين.
المصادر باللغة الانكليزية
9.Anjum, Muhammad &Adeel,Pervez,2013,Counter productive Behavior Work: A Comparison Of Blue Ollar And White Collar Workers, Pakistan Journal Of Commerce And Social Science, Vol.7,No.3
10.Attia,Amira, Abo Gad , Reda & Sholair,Maha , 2020, Workplace Bullying And Its Effect On Staff Nurses Work Engagement ,Tanta Scientific Nursing Journal,Vol.`8, No.1
11.Bin Zaid, Wafaa, 2019,The Impact Of Job Burnout On The Performance Of Staff Member At King Abdul Aziz , International Journal Of Business And Social Science, Vol.10, No, 4
12.Chau,Feli, Wilmar,B.,2009,Burnout: 35 Years Of Research And Practice , Emerland Group Publishing Limited, Career Development International, Vol.14.No.3
13.Catalina , Ng & Victor, Chan , 2021, Prevalence Of Workplace Bullying And Risk Group In Hong Kong, International Journal Of Environmental Research And Public Health, Vol.18,No.32
14.Caponecchia,Carlo, Branch,Sara&Murray,Jane,2018, Development Of A Taxonomy Of Workplace Bullying Intervention Types : Informing Research Direction And Supporting Organizational Decision Making, Group And Organization Management,Vol.45,No.1
15.Ghorpada,Jai,2007,Burnout And Personality:Evidence From Academia, Journal Of Career Assessment , Vol.15,No.2
16..Fox,Suzy&Cowan,Renee,2015,Revision Of Workplace Bully Checklist The Importance Of Human Resource Management Involve Of Defining And Addressing With Place Bulling , Human Resource Journal, Vol.25,No.1
17.Halley,Carol,2013,Leaders Who Bully : An Adlerian Perspective On The Purpose And Impact Of Bullying In Organization And What Excutive Can Do To Eliminate It, Faculty Of Adler , Canada
18.Kelleher,Andrea,2017,Gendered Hntent To Turnover Resulting From Workplace Bulling In Nursing And Medical Fields, Dissertation Presented Of Requirement For The Degree Doctor Philosophy , Capella University
19.Kyella,Kissa,2016, An Assessment Of Workplace Bullying Practice And Its Effect To Teachers Performance In Tanzania , Master Thesis , University Of Tanzania
20.Olaitan,O.L.,Oyerinda,O.,Obiyemi,O.,& Kayoed ,O., 2010, Prevalence Of Job Stress Among Primary School Teachers In South West Nigeria, African Journal Of Microbiology Research , Vol.4, No.5
21.Lovan,H.,&Martin,W.,2008,Bullying In The U.S. Workplace : Normative And Process Oriented Ethical Approaches,Journal Of Business Ethics,Vol.83,No.2
22.Mitchell,A.,2010,Complex Ptsd Devasting Health Effects From Workplace Bullying , Retrived From : Www.Workplace Bullying.Org/Suite1010/
23.Nielsen, Morten, Hetland,John & Einarsen,Stale,2012,Longitudinal Relationships Between Workplace Bullying And Psychological Distress, Scand J Work Environ Health ,Vol.38,No.1
24.Yildiz,S.,2007,A New Problem In The Workplace :Psychological Abuse , Journal Of Academic Studies,Vol.9,No.34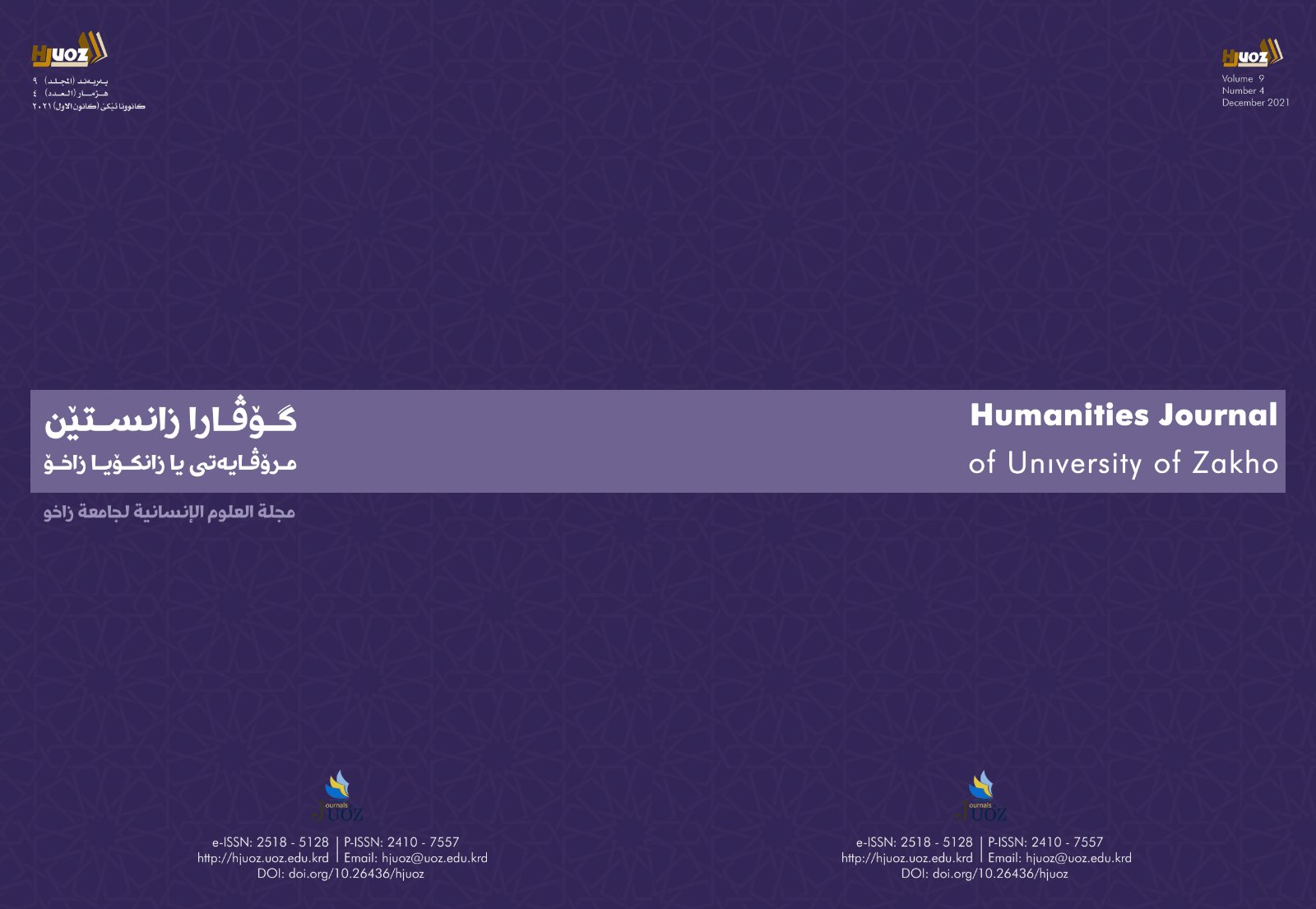 How to Cite
Dawood, D., & Kochar, J. (2021). Bullying in the workplace and its impact on enhancing employee burnout: An exploratory study of the opinions of a sample of employees at the University of Zakho. Humanities Journal of University of Zakho, 9(4), 886-901. https://doi.org/10.26436/hjuoz.2021.9.4.761
Section
Humanities Journal of University of Zakho
Copyright (c) 2021 Dalia Dawood, Jotiar Kochar
This work is licensed under a Creative Commons Attribution-NonCommercial-ShareAlike 4.0 International License.
Authors who publish with this journal agree to the following terms:
Authors retain copyright and grant the journal right of first publication with the work simultaneously licensed under a Creative Commons Attribution License [CC BY-NC-SA 4.0] that allows others to share the work with an acknowledgment of the work's authorship and initial publication in this journal.
Authors are able to enter into separate, additional contractual arrangements for the non-exclusive distribution of the journal's published version of the work, with an acknowledgment of its initial publication in this journal.
Authors are permitted and encouraged to post their work online.