The reality of educational research and its problems from the point of view of educational teachers at the University of Dohuk
Sabir A. Saeed

University of Duhok

Peshkosh J. Abdullah

juoz@uoz.edu.krd
Keywords:
Educational research, Educational teachers
Abstract
The current research aims to identify the following: The most important problems faced by educational researchers at the University of Dohuk. 1. The percentage of research carried out by educational researchers during their period of teaching.2. The level of satisfaction of educational researchers on their completed research.3. The purpose (objective) of the completion of research (whether it is for scientific promotion only or a desire to solve the problems facing educational field and others).In order to achieve the objectives of the research, the descriptive method was followed. The tool of the research consists of an open closed questionnaire consisting of (26) paragraphs each one of them expresses a problem of the researcher's problems in educational research with four open questions followed by those paragraphs and was applied on a sample of (43) teachers in the departments of the Faculty of Basic Education and Sport at the University of Dohuk.After the analysis of the data statistically by using Fisher equation to extract the strength of the paragraphs, the results showed that all the paragraphs of the questionnaire formed problems that are obstacles to educational researchers so it was found that the rate of completion of research was very low, it was found that 41.3% of the teachers did not perform any research, 41.3% completed one research per year, 17.2% completed two research projects during the year. It was also found that 53% were satisfied with their level of achievement and 47% were dissatisfied. As for the purpose of the research, 63% had completed the research with a desire to solve educational problems and 16% were intended for both. Finally the researchers came up with a set of recommendations and suggestions for the purpose of promoting the level of achievement of educational research at the University of Dohuk.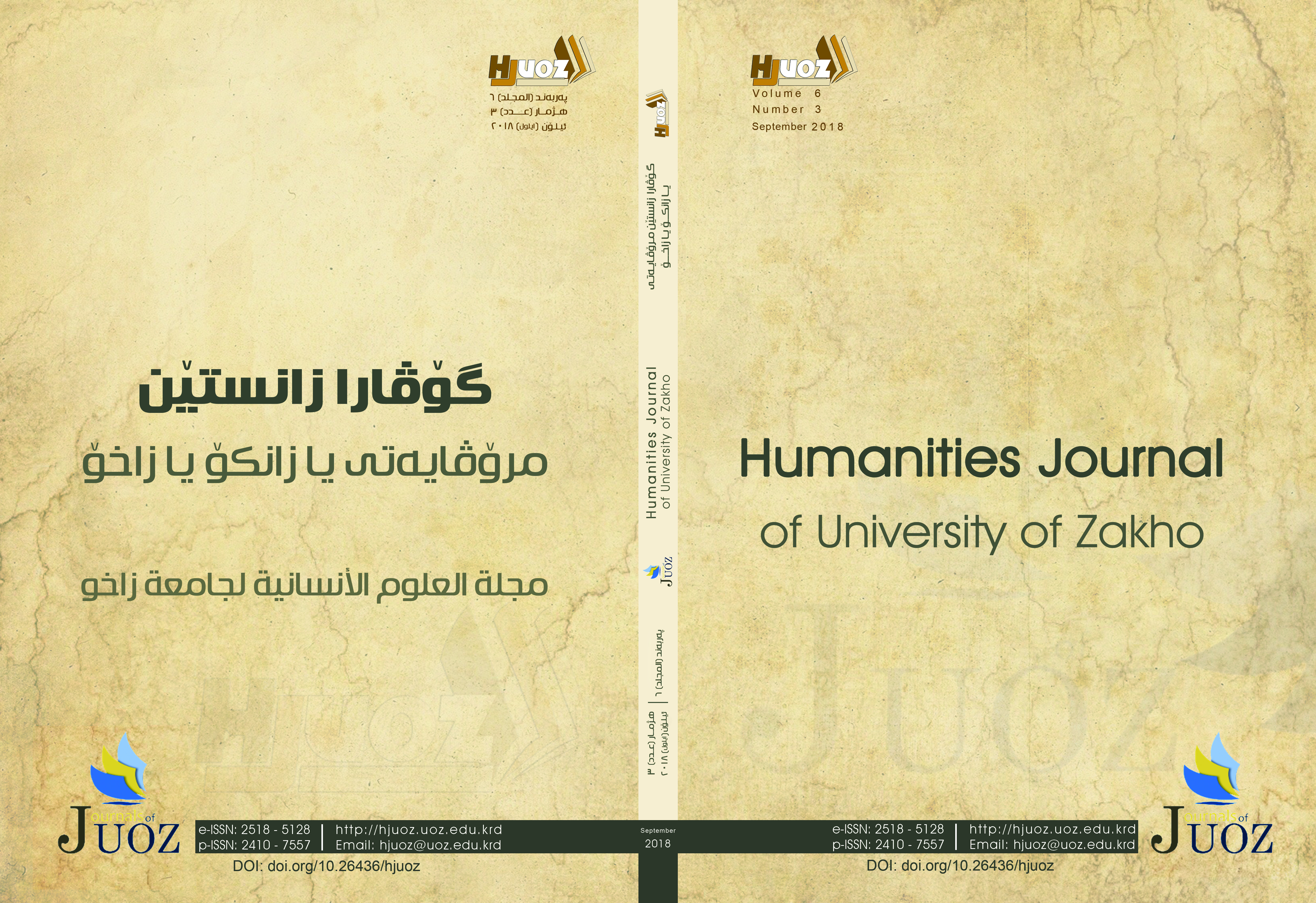 How to Cite
Saeed, S., & Abdullah, P. (2018). The reality of educational research and its problems from the point of view of educational teachers at the University of Dohuk. Humanities Journal of University of Zakho, 6(3), 837-849. Retrieved from https://hjuoz.uoz.edu.krd/index.php/hum/article/view/150
Section
Humanities Journal of University of Zakho
Copyright (c) 2018 Humanities Journal of University of Zakho
This work is licensed under a Creative Commons Attribution-NonCommercial-ShareAlike 4.0 International License.
Authors who publish with this journal agree to the following terms:
Authors retain copyright and grant the journal right of first publication with the work simultaneously licensed under a Creative Commons Attribution License [CC BY-NC-SA 4.0] that allows others to share the work with an acknowledgment of the work's authorship and initial publication in this journal.
Authors are able to enter into separate, additional contractual arrangements for the non-exclusive distribution of the journal's published version of the work, with an acknowledgment of its initial publication in this journal.
Authors are permitted and encouraged to post their work online.