Birds symbols in Aljazeeri divan
Abu Obaid Abdullah Ziyab

Dept. Of Kurdish Languages, College Of Languages, University of Nawroz, Kurdistan Region-Iraq.
Keywords:
Symbol, Bird, poetry, Sufism, Jazeeri
Abstract
The world is full of beautiful sounds, colors and wonderful views that were created by the Almighty. Human beings were able to name and show the features of everything around the world. However, it is quite normal the existence of a number of ambiguous daily terms that need a special language in order to facilitate the comprehension process. It refers to that language as a symbolic language to express the importance of the various meanings. A number of symbols and ambiguous terms exist which reflect its significance in highlighting and unveiling that hidden world just like the way how the Sufi imagine but cannot express the events by using an ordinary and simple languageThe use of "birds" as a symbol of Sufi has become a reason for creating a meaningful writing as well as Sufi poetry adorned/decorated with poetic words. In this context, birds have been found in the Al-Jaziri`s collection of poems and each one carries a special symbol based on the natural features and characteristics. This research paves the way to identify these birds, as well as to unveil their characteristics related to symbolic subjects according to the Sufi poetry. It also attempts to clarify the hidden meanings behind these symbols for each bird's nameThis research consists of an introduction and two main sections, the first section deals with the theoretical framework on symbolism, while the second section deals with the practical aspect of the symbols used for birds in Al Jaziri's collection poems. Finally, it deals with the most important results of the study.
References
- قورئانا پبیروز
- په‌رتووك بزمانێ كوردى :
-- ابراهیم أحمد حسن , شعیرى ئایینى وسوفیگه‌رى له‌ شیعره‌ كوردییه‌ كانى مه‌حوییا به‌راورد و ولێكولینه‌وه‌ , نامه‌ى دوكتورا , زانكوى سه‌لاحه‌ددین , ئاداب , 1996 .
- په‌خشان سابیر حه‌مه‌د (د), ڕه‌مز له‌ شیعرى هاوچه‌رخى كوردى كرمانجى خوارووى كوردستان 1970-1991, چاپخانه‌ى حاجى هاشم ,هه‌ولێر,2012.
- جزیرى,دیوانا جزیرى ,به‌رهه‌ڤكرن تحسین ابراهیم دوسكى,چاپا ئێكێ , چاپخانا هاوار, دهوك,2000.
- عه‌لى شه‌ریعه‌تى , زاراوه‌ ناسى , وه‌رگێران حسین سه‌ید ئه‌دهه‌م چاپى دووه‌م , چاپخانه‌ى گه‌نج , سلیمانى , 2017 .
- عیماد وه‌یسى خالد , چه‌ڤه‌نگ د هوزانا ریالیستیكا كوردى دا ده‌ڤه‌ رابه‌هدینا 1970 -1991 چاپخانه‌ وه‌زاره‌تى په‌روه‌رده‌ , هه‌ولێر , 2004 .
- محمد أمین دوسكى , شروڤه‌كرنا دیوانا مه‌لایێ جزیرى , به‌رگێ ئیكێ , چاپا ئیكێ , دهوك 2007 .
- نه‌وزاد ئه‌حمه‌د ئه‌سوه‌د,فه‌رهه‌نگى زاراوه‌كانى ئه‌ده‌ب و زانسته‌ مروڤایه‌تیه‌كان,چاپى یه‌كه‌م,چاپخانه‌ تاران,2015.
- په‌رتووك بزمانێ فارسی :
- ابو العلاء , سود اور , فرة ايزدى در ائين ثاشاهى ايران , انشتارات نى , تهران , 1384 .
- اريك فروم , زبان از ياد رفتة ' ترجمة ابراهيم امانت , انتشارات مرواريد , تهران , 1349 .
- الن شوالية ذان وطر , فرهنط نمادها , ترجمة سودابة فضايلى ضاث اول , انتشارات جيحون , تهران , 1378 .
- بهرام مقدادى ( د). دانش نامةى نقد ادبى از افلاتون تابة امروز , ضاث دوم , ضاث دالاهو , تهران , 1397.
- .تقى ثورنامداريان, داستان ثيامبران در كليات شمس, ضاث دوم, انتشارات علمى و فرهنطى, 1364.
- تقى ثور نامداريان , رمز و داستانهاى رمزى در ادب فارسى , ضاث دوم , انتشارات علمى وفرهنطى ' تهران , 1376 .
- د.خسرو فروشيدورد, دربارة ادبيات ونقد ادبى , جلد اول , ضاث سوم, ضاثخانة سثهر, انتشارات امير كبير, تهران, 1378.
- ركس وارتر , دانش نامةى اساطير جهان , ترجمة ابو القاسم اسماعيل ثور , تهران ,1368 .
- كارل طوستاف يونط , انسان وسمبول هايش , ترجمة محمود سلطانيه ضاث سوم , انتشارات جامى , تهران , 1378.
- د.طل بابا سعيدى , فرهنط اصطلاحات عرفانى ابن عربي , ضاث اول , انشتارات شفيعى , تهران , 1383 .
- محمد رضا شفيعى كدكنى , منطق الطير عطار نيشابورى , ضاب شانزدهم , تهران , 1397,
- محمد معين , حافظ شيرين سخن , جلد دوم ,ضاث دوم , ضاثخانةى مهارت , تهران 1370 .
- محمود فتوحى , بلاغت تصوير , أنتشارات سخن , تهران ,1385 .
- ميراندا بروس ميت فورد , فرهنط مصور نمادها و نشانةها در جهان , ترجمة ابو القاسم دادور , زهرا تاران , دانشطاة الزهرا , تهران , 1388 .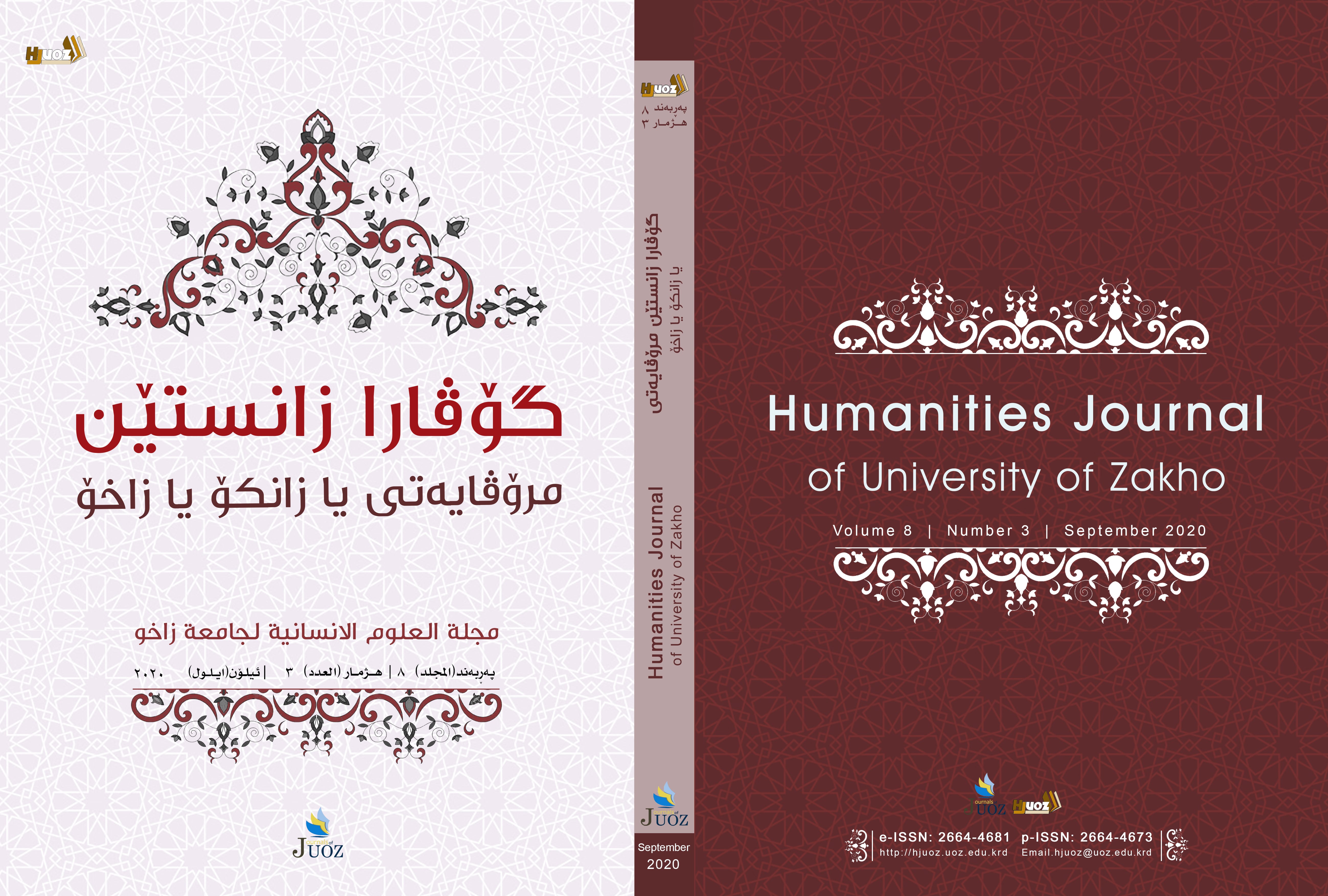 How to Cite
Ziyab, A. O. (2020). Birds symbols in Aljazeeri divan. Humanities Journal of University of Zakho, 8(3), 351-362. https://doi.org/10.26436/hjuoz.2020.8.3.626
Section
Humanities Journal of University of Zakho
Copyright (c) 2020 Abu Obaid Ziyab
This work is licensed under a Creative Commons Attribution-NonCommercial-ShareAlike 4.0 International License.
Authors who publish with this journal agree to the following terms:
Authors retain copyright and grant the journal right of first publication with the work simultaneously licensed under a Creative Commons Attribution License [CC BY-NC-SA 4.0] that allows others to share the work with an acknowledgment of the work's authorship and initial publication in this journal.
Authors are able to enter into separate, additional contractual arrangements for the non-exclusive distribution of the journal's published version of the work, with an acknowledgment of its initial publication in this journal.
Authors are permitted and encouraged to post their work online.