The Role of Innovative Value in Formation of the Mental Image of the Organization: An exploratory
Study of the views of a sample of managers in a number of construction organizations in Duhok city
Saad F. Abbas Al - Mahmoud

Department of Business Administration, Faculty of Management and Economics, Duhok University, Kurdistan Region-Iraq.

Eiveet Sh. Mikho Qelo

Department of Tourism and Hotels Management, Faculty of Management and Economics, Duhok University, Kurdistan Region-Iraq.

Delman Kh. Ramadhan Al-Sharvany

Department of Tourism and Hotels Management, Faculty of Management and Economics, Duhok University, Kurdistan Region-Iraq.
Keywords:
Innovative Value, Mental Image
Abstract
Organizations have recently faced a number of global changes and developments in the business environment as a result of political, economic, social, technological and legal changes which affect the mental image of the organization. Innovation has become the organizational goal of all organizations that compete fiercely in a world where globalization is intensifying. The mangers look at the innovation not only as a new way of working, but as a real means for organizations to survive and sustain long-term exploration and exploitation of undisputed market areas because competition in crowded markets is not a means of preserving market share of the organization. The formation of a good mental image has become a fundamental goal pursued by many organizations that seek success. There is awareness among organizations about the importance of studying the mental image that is formed in the minds of customers in order to be able to build plans and strategies related to improving the intellectual impressions and knowledge of customers and thus creating an appropriate environment conducive to innovation in all organization activities. The present study aims to survey the views of a sample of (89) individuals work as managers and heads of departments in the construction organizations within the city of Dohuk towards the variables of the study through the questionnaire, which was analyzed by the adoption of Statistical Package for Social Sciences (SPSS-V25). The results of the research showed that the mental image of the investigated organizations acquires most of their characteristics from the innovation value and their dimensions, and that the more the organizations investigated in the innovation value of their products, the greater positive impact on improving of the mental image of customers. The research also presented  number of recommendations, such as that the researched organizations adopt a culture of creativity in dealing with the employees by enabling them to work independently and applying their innovation ideas, which reflect their positive returns on both the innovation value and mental image of those organizations.
References
المصادر باللغة العربية:
الرسائل والأطاريح العلمية:
بلاني، زيد حسن، دور تسويق علاقات الزبون في تحقيق القيمة المبتكرة بالاعتماد على خريطة منفعة الزبون CUM ، دراسة ميدانية لآراء المديرين لعينة مختارة من
منظمات الأعمال في محافظة دهوك، رسالة ماجستير غير منشورة، كلية الإدارة والاقتصاد، جامعة دهوك، العراق.
كه مه كي، حكيم توفيق أحمد،2013 ، دور أبعاد المعرفة الريادية ومكونات التفكير الريادي في تحقيق معايير ومؤشرات استراتيجية المحيط الأزرق-دراسة استطلاعية لآراء القيادات الإدارية في عينة من المنظمات الصغيرة في محافظة دهوك، رسالة غير منشورة، فاكلتي القانون والإدارة، جامعة دهوك، العراق.
الدوريات:
رؤوف، رعد عدنان، 2010، دور أبعاد استراتيجية المحيط الأزرق في الأداء التسويقي – بالتطبيق على شركة العامة لصناعة الأدوية والمستلزمات الطبية – نينوى، مجلة تنمية الرافدين، العدد (98(، كلية الإدارة والاقتصاد، جامعة الموصل، العراق.
العطار، فؤاد حمودي، 2010، دور فلسفة المحيط الأزرق في تحقيق التفوق التنافسي: دراسة استطلاعية لآراء عينة من العاملين في شركة زين للاتصالات ببغداد، مجلة جامعة كربلاء العلمية، المجلد (8)، العدد (3)، كربلاء، العراق.
الكتب:
الصيرفي، محمد عبد الفتاح، 2008، الإدارة الاستراتيجية، الطبعة الأولى، دار الوفاء للطباعة والنشر، عمان، الأردن.
الطائي، حميد عبد النبي والعلاق، بشير عباس، 2009، تسويق الخدمات، دار اليازوري للنشر والتوزيع، عمان، الأردن.
عجوه، محمود علي، 2014، العلاقات العامة والصورة الذهنية، الطبعة الثانية، الناشر عالم الكتب ، القاهرة.
كيم، دبليو تشان و رينيه، موبوروني، 2016، استراتيجية المحيط الأزرق، مكتبة جرير، المملكة العربية السعودية، الرياض.
المصادر باللغة الإنكليزية:
Theses & Dissertations:
AL-Khatib, M. A., 2011, The impact of Deception in Marketing to Build a Mental Picture of Services in the Jordanian Market, Unpublished Master Thesis. University of the Middle East: Amman, Jordan.
Miano, E. M., 2013, Determinants of Implementation of Blue Ocean Strategy in Commercial Banks in Kenya, Master Thesis, University of Nairobi, Nairobi, Kenya.
Nicolas, Guillaume, 2011, The Evolution of Strategic Thinking and Practices-Blue Ocean Strategy, Master Thesis, Linnaeus University, Växjö, Sweden.
Yee, W. S., 2015, Relationship Between Customer Satisfaction, Service Quality, and Corporate Image of a Malaysian Company, Thesis Submitted to the School of Graduate Studies, University of Putra Malaysia, Master Degree.
Periodicals:
AL-Rhaimi, S. A., 2015, The Impact of Internal Marketing on the Mental Image of the Tourism Program, International Journal of Marketing Studies; Vol. 7, No. 3.
AL-Sakarneh, B. K., 2012, Work Ethic and Their Impact on The Mental Image Management in Business Organizations: A field study on the Jordanian telecommunications companies, Journal of Baghdad College of Economic Sciences University, 33.
Azoury, N. M.; Daou, Lindos E.; and El Khoury, Ch. M., 2013, University Image and its Relationship to Student Satisfaction: Case of the Holy Spirit University of Kaslik, Lebanon, Journal of Executive Education: Vol. 12: Issue. 1, Article 4.
Bin Hashim, N.; Abdullateef, A.; and Sarkindaji, B., 2015, The Moderating Influence of Trust on the Relationship between Institutional Image/Reputation, Perceived Value on Student Loyalty in Higher Education Institution International Review of Management and Marketing, Vol. 3, Issue 5.
Bloemer, J., De Ruyter, K. and Peters, P., 1998, Investigating Drivers of Bank loyalty: The complex relationship between image, service quality and satisfaction. International Journal of Bank Marketing, No. 16.
Chakrabarti, M., 2014, Blue Ocean Marketing Strategy (BOMS)-An Overview, Abhinav International Monthly Refereed Journal of Research in Management & Technology, Vol.3, Issue 6.
Chin, W. J., and Chin, M. L., 2014, Factors affecting the Hotel's Service Quality: Relationship marketing and corporate image. Journal of Hospitality Marketing & Management, Vol. 23, No.1.
Dimitrios, B., 2014, The Strategic Model of Innovation Clusters: Implementation of Blue Ocean Strategy in a typical Greek Region, Social and Behavioral Sciences 148, 645 – 652.
Eisinga, R.; Te Grotenhuis, M.; and Pelzer, B. 2012, The reliability of two-item scale: Pearson, Cronbach or Spearman - Brown?, International Journal of Public Health, 58 (4): 637–642.
Mohamad, M., 2009, Building Corporate Image and Securing Student Loyalty in the Malaysian Higher Learning Industry, The Journal of International Management Studies, Volume 4, Number 1, February.
Murphy, S., Nordin, S.M., & Cumming, J., 2008. Imagery in sport exercise: Advances in sport and exercise psychology, Applied Sport Psychology Review, Vol. 2.
Plewa, C.; Ho, J.; Conduit, J.; and Karpen, I., 2015, Reputation in higher education: A fuzzy set analysis of resource configurations, Journal of Business Research, January, 69(8).
Pylyshyn, Z.W., 2002, Mental Imagery: In search of a theory. Behavioral and Brain Sciences, Vol. 25.
Smaizien, I., and Orzekauskas, P.,2006, Corporate Image Audit, Management Journal, Vol.1, No. 89.
Stern, B.; Zinkhan, M.; and Jaju, A., 2001, Marketing Images Construct Definition, Measurement Issues, and Theory development, marketing theory articles, Volume 1, No. 2.
Books:
Amidon, D.M., 2001, Innovation at management reconnaissance's, Editions d' Organization, Francis.
Barton, B., and Peat, J., 2014, Medical Statistics: A Guide to SPSS Data Analysis and Critical Appraisal, 2nd Ed., John Willy & Sons Ltd, New jersey, USA.
Kim WC, Mauborgne R., 2005, Blue ocean strategy. Cambridge, MA: Harvard Business School Press.
Kotler, Ph., 2003, Marketing: Insights from A to Z, John Wiley & Sons Inc, New jersey, USA.
Kotler, Ph., Dubois Bernard, 2002, Marketing Management, Public-Union edition, 10th ed., Paris, France,
Rosenthal, B., 2017, Blue Ocean Strategy Applied for Chinese Online M&A Platforms Industry, Department of Marketing, Johann Wolfgang Goethe University.
Voldere, I. De.; Romainville, J.F., and Knotter, S., 2017, Mapping the Creative Value Chains: A study on the economy of culture in the digital age, General for Education and Culture, Culture and Creativity Unit D.1 – Cultural Policy.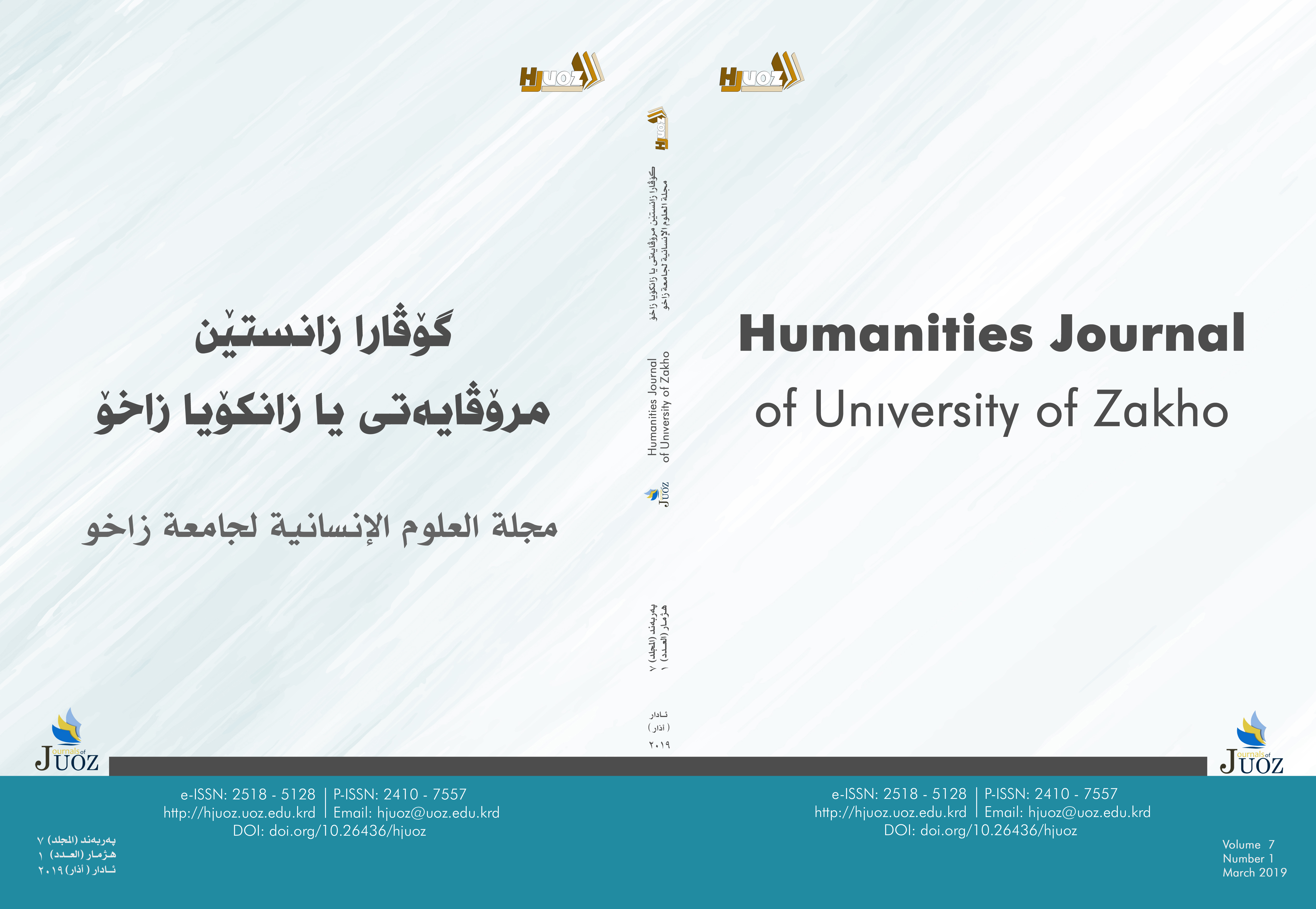 How to Cite
Abbas Al - Mahmoud, S., Mikho Qelo, E., & Ramadhan Al-Sharvany, D. (2019). The Role of Innovative Value in Formation of the Mental Image of the Organization: An exploratory. Humanities Journal of University of Zakho, 7(1), 110-138. https://doi.org/10.26436/hjuoz.2019.7.1.465
Section
Humanities Journal of University of Zakho
Copyright (c) 2019 Saad F. Abbas Al - Mahmoud, Eiveet Sh. Mikho Qelo, Delman Kh. Ramadhan Al-Sharvany
This work is licensed under a Creative Commons Attribution-NonCommercial-ShareAlike 4.0 International License.
Authors who publish with this journal agree to the following terms:
Authors retain copyright and grant the journal right of first publication with the work simultaneously licensed under a Creative Commons Attribution License [CC BY-NC-SA 4.0] that allows others to share the work with an acknowledgment of the work's authorship and initial publication in this journal.
Authors are able to enter into separate, additional contractual arrangements for the non-exclusive distribution of the journal's published version of the work, with an acknowledgment of its initial publication in this journal.
Authors are permitted and encouraged to post their work online.