The administration of the Badilis districts according to the two state authorities for the year 1316 AH / 1898 CE and 1318 AH / 1900 CE
Majed Muhammad Yunus

Department of History, Faculity of Humanities - University of Zakho, Kurdistan Region - Iraq.
Abstract
Bitlis was the center of a strong Kurdish emirate in northern Kurdistan, southeastern Anatoliafor many centuries. Bitlis played a very important role in different aspects of Kurdish life, representing significant political, military and economic equations between two vast and powerful states, the Ottoman Empire and the Safavid State. One of these roles associated with Bitlis' geographical position, whichwas militarily fortified and as being close to the bordersof the two mentionedcountries. Such position led to make the two forces be wooed on Bitlis. Hence, the Ottomans were feared of losing Bitlis, joining the Safavids. They, in turn, took advantage of the opportunities to attract the attention of the Bitlis people. So, this positively affected the economic life of the emirate in various ways. At that time, and having the crisis between the Ottomans and the Safavids, Bitlis leaders had to maintain a balance between them as much as possible in order to preserve their survival. However, the Ottomans resorted to violence and sought excuses to overthrow the emirate, to at least weaken it, and put an end to its continued growth, which was prevailing during the establishment of treaties between the two forces. Bitlis continued to live amid those circumstances until the Ottomans controlled it at the end of the first half of the 19th century. The Ottomans then changed their administrative boundaries to some extent, forming a new mandate that included a number of sanjaks and districts. In the current paper, all the administrative aspects of the Bitlis districts will be addressedaccording to the Salnama in1898 and 1900. These districts included Akhlat. (Khalat), Khaizan, Mottaki (Motki), Bolang, Arto (Wartu), Malazcard, Sasson, Ghazan, Arwa (Arukh), Sherwan, Barwari, Qalb, and Jabakjour separately. The study also tackled the government departments that existed at the time, identifying the administrative staff in each administration such as qaemakamat, courts, tax authorities, the civil status, banks, finance, land registry (tabu), telegraph, police departments, public debt, civil and military schools, municipalities, knowledge departments, security, the committees of military media, prisons, the departments of agriculture and agricultural products and other things related to each district. All these reflect important aspects of the administrative history of Kurdistan during the last era of the age of the Ottoman Empire.
References
أولاً: وثائق الارشيف العثماني :
1.دفاتر الطابو والتحرير : -bitlis tapo tahrir defteri ,sira nu 413.
- Tapu tahrir defter,sira no : 189.
ثانياً: دفاتر النيشان والتحويل :
- BOA.A.NST.9/26.
ثالثاً: دفاتر المهمة العثمانية:
-6 numarali Mühimme defterı, 972/1564-1565,Özet, C1-2, Transkrıpsıyon ve Indeks Başbakanlık Devlet Arşıvlerı Genel Müdürlügü Osmanlı Arşıvı Daıre Başbakanlık, (Ankara : 1995)..
رابعاً: الرسائل والاطاريح باللغة التركية :
- ibrahim yelmazçelık, XIX yüzılın ılk yarısında dıyarbaakır 1790-1840,(fiziki idari ve sosyal-ekonomik yapi), firat üneversıtesı,sosyal bilimler enstitusu basılmamış,doktora tezı,(Elaziğ : 1991),S 1-3.
- M. Mahfuz SÖYLEMEZ,2007) ANKARA VİLAYET SALNÂMELERİNE GÖRE OSMANLI'NIN SON DÖNEMİNDE ÇORUM, Hitit Üniversitesi İlahiyat Fakültesi Dergisi, 2007/2, c. 6, sayı.
- Hatice KELEŞ,salnamelere gore van ve bitlisvilayetlerinde dini-sosyal yapi, yuksek lisans tezi,firat universitesi,sosyal bilimler enistitusu,felsefe ve din bilimleri anabilim dali, dinler tarihi bilim dali,(elazig : 2009).
خامساً: المراجع باللغة التركية :
- Botan amedi, kürtler ve kürdıstan tarıhı, bırıncı baskı, aydınlar matbaası,(Istanbul : 1991).
- Mehmet torehan serdar,bitlis'in idari tarihçesı,bıtlıs valılığı ıl költor torızım müdürlügü,(bitlis : 2007).
- Tahir sezen,osmanli yer adlari (alfabetik sirayla)(Ankara:2006).
سادساً: البحوث والمقالات باللغة التركية:
-Abdullah demir,dogu ve guneydugu anadolu'nun osmanli devletine iltihaki, kopru dergisi sayi , no 98, bahar:2007.
-Dr.mehmet Demirtaş,xix yuzelin ikici yarisinda bitlis vilayetinde nufus, Dicle universitesi,ilahiyat fakultesi dergisi,hakemli dergi,cilt : xi ,(Diyarbakir : 2007).
سابعاً: المراجع باللغة العربية :
1. ماجد محمد زاخوي,الفرسان الحميدية 1891-1923,(دهوك : 2008).
2. هاشم الكتبي،عصر السلطان عبد الحميد الثاني واثره في الاقطار العربية،(بيروت:د.ت)،ج3.
ثامناً : البحوث والمقالات :
1. د.فاضل مهدي بيات,السالنامات العثمانية واهميتها لتاريخ العراق, مجلة المورد,(مجلة تراثية فصلية تصدرها وزارة الاعلام العراقية),(بغداد:1988), المجلد 17,العدد 2.
2. د.محمد حرب,(السالنامة العثمانية وأهميتها في بحوث الخليج والجزيرة العربية), مجلة دراسات الخليج والجزيرة العربية,العدد 33,السنة 9,كانون الثاني 1983
1. تاسعا: شبكة المعلومات الدولية : علي عفيفي علي غازي,2012,شبكة المعلومات الدولية
** الحميدية : ميليشيا عسكرية كردية شكلها السلطان العثماني عبد الحميد الثاني 1876-1909 لاهداف وغايات جمة, منها العسكرية ومنها السياسية والاقتصادية,وقد استمرت لغاية سنة 1923.للتفصيل حول هذه القوة راجع :ماجد محمد زاخوى, الفرسان الحميدية 1891-1923,(دهوك:2008).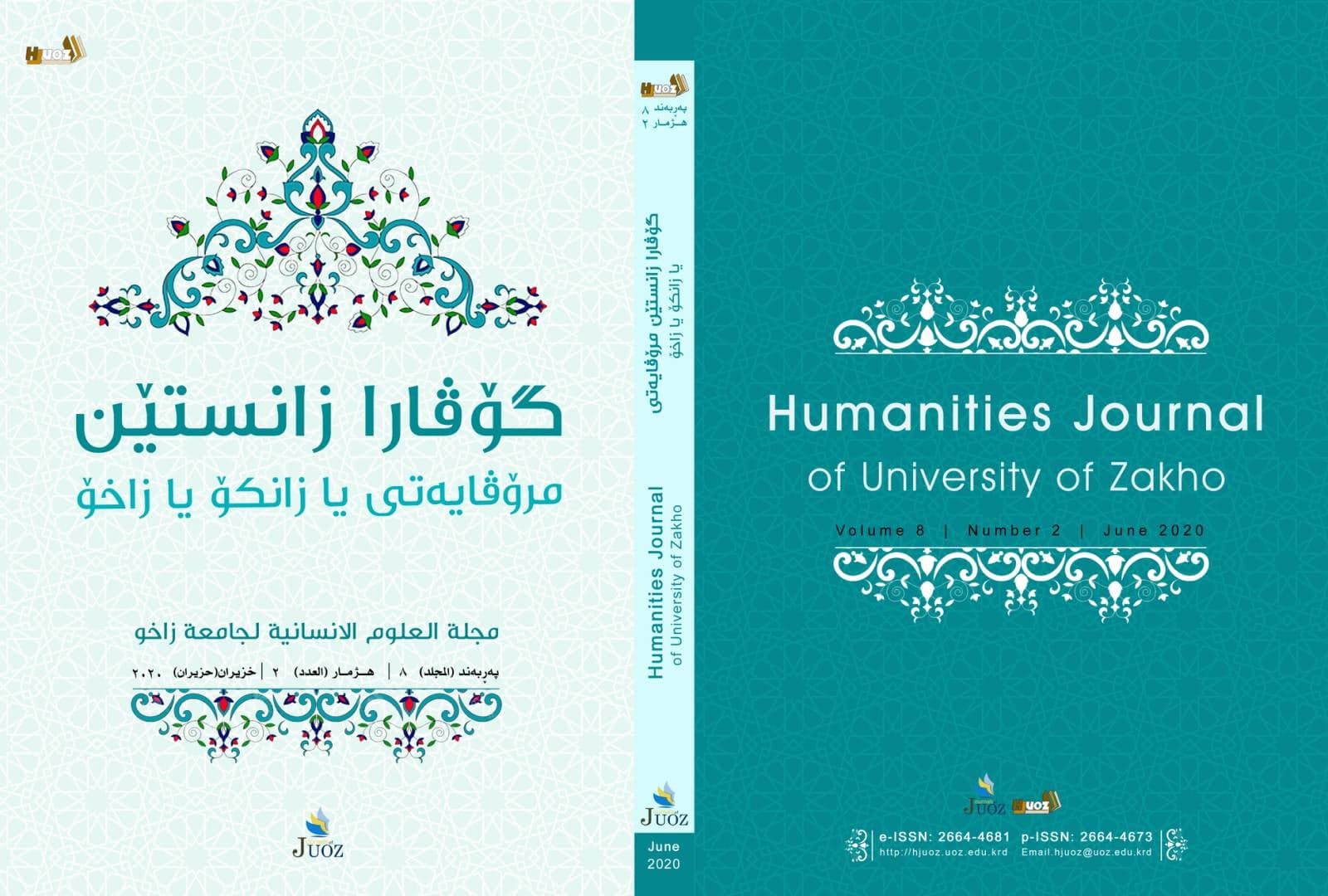 How to Cite
Yunus, M. (2020). The administration of the Badilis districts according to the two state authorities for the year 1316 AH / 1898 CE and 1318 AH / 1900 CE. Humanities Journal of University of Zakho, 8(2), 212-227. https://doi.org/10.26436/hjuoz.2020.8.2.602
Section
Humanities Journal of University of Zakho
Copyright (c) 2020 Majed Yunus
This work is licensed under a Creative Commons Attribution-NonCommercial-ShareAlike 4.0 International License.
Authors who publish with this journal agree to the following terms:
Authors retain copyright and grant the journal right of first publication with the work simultaneously licensed under a Creative Commons Attribution License [CC BY-NC-SA 4.0] that allows others to share the work with an acknowledgment of the work's authorship and initial publication in this journal.
Authors are able to enter into separate, additional contractual arrangements for the non-exclusive distribution of the journal's published version of the work, with an acknowledgment of its initial publication in this journal.
Authors are permitted and encouraged to post their work online.