Mehmed Uzun as a Representative of Modern Kurdish Narrative
Keywords:
Polyphony, Mehmed Uzun, Diasporic fiction, Modern Kurdish novel, Dormant identity
Abstract
This article is dedicated to the analysis of Mehmed Uzun's initial Two novels, Tu (1985) and Mirina Kalekî Rind (1987). It focuses on Mehmed Uzun as a representative of modern Kurdish narrative. When it comes to the concepts of identity distortion in characters and their complicated state of mind, his novels can be a relevant subject matter for interpretation. In light of Mikhail Bakhtin's theory of polyphony and the scholars who worked in his circle, this article explores the polyphonic aspects of Mehmed Uzun's two initial novels. Through novelistic discourse analysis, it becomes apparent that the characters suffer from the dormant identity, which is locally given to them in Uzun's diasporic fiction. Next, the discussion gives further details regarding polyphony and how problematic polyphony can be found in the novels mentioned above. Finally, this article sheds light on the notion of identity formation in the fictional novel and its relationship with the real world during the time the novels were written. It concludes that the entire representation of characters and settings in his novels leads to the production of a realistic novel with the consistent discourse that can be considered an objective view of a specific time in history which is undermined.
References
Abrams, M. H., & Harpham, G. G. (2009). A glossary of literary terms (9th ed.). Boston: Wadsworth Cengage Learning.
Bakhtin, M. (1986). Speech Genres and Other Late Essays (V. W. McGee, Trans.). Austin, TX, United States: University of Texas Press.
Bhabha, H. K. (2004). The location of culture. London ; New York: Routledge.
Gary Saul Morson, C. E. (1990). Mikhail Bakhtin: Creation of a Prosaics. Stanford: Stanford University Press.
Kaes, A. (1992). New Historicism: Writing Literary History in the Postmodern Era. Monatshefte, 84(2), 148-158.
Lescot, R., & Lescot, R. (1997). Memê Alan : destana Kurdî. Beyoğlu, İstanbul: Avesta.
Liisa Steinby, T. K. (2014). Bakhtin and his Others: (Inter)subjectivity, Chronotope, Dialogism: Anthem Press.
Moran, D. (2012). Husserl's crisis of the european sciences and transcendental phenomenology : an introduction. Cambridge England ; New York: Cambridge University Press.
Murfing, R., & Ray, S. M. (2003). The Bedford Glossary of Critical and Literary Terms. New York: Bedford/St. Martin's.
Oishi, E. (2006). Austin's Speech Act Theory and the Speech Situation. Esercizi Filosofici, 1, 1-14.
Park, R. E., & Burgess, E. W. (1970). Introduction to the science of sociology, including an index to basic sociological concepts (Student ed.). Chicago,: University of Chicago Press.
Petocz, A. (1999). Freud, Psychoanalysis, and Symoblism: Cambridge Universiy Press.
Uzun, M. (2003). Diyarbakir: The Slap in the face. The International Journal of Kurdish Studies, 17(2), 25.
Uzun, M. (2005). Tu. Istanbul, Turkey: Ithaki.
Uzun, M. (2007). Mirina kalekî rind (1. baskı. ed.). Kadıköy, İstanbul: İthaki.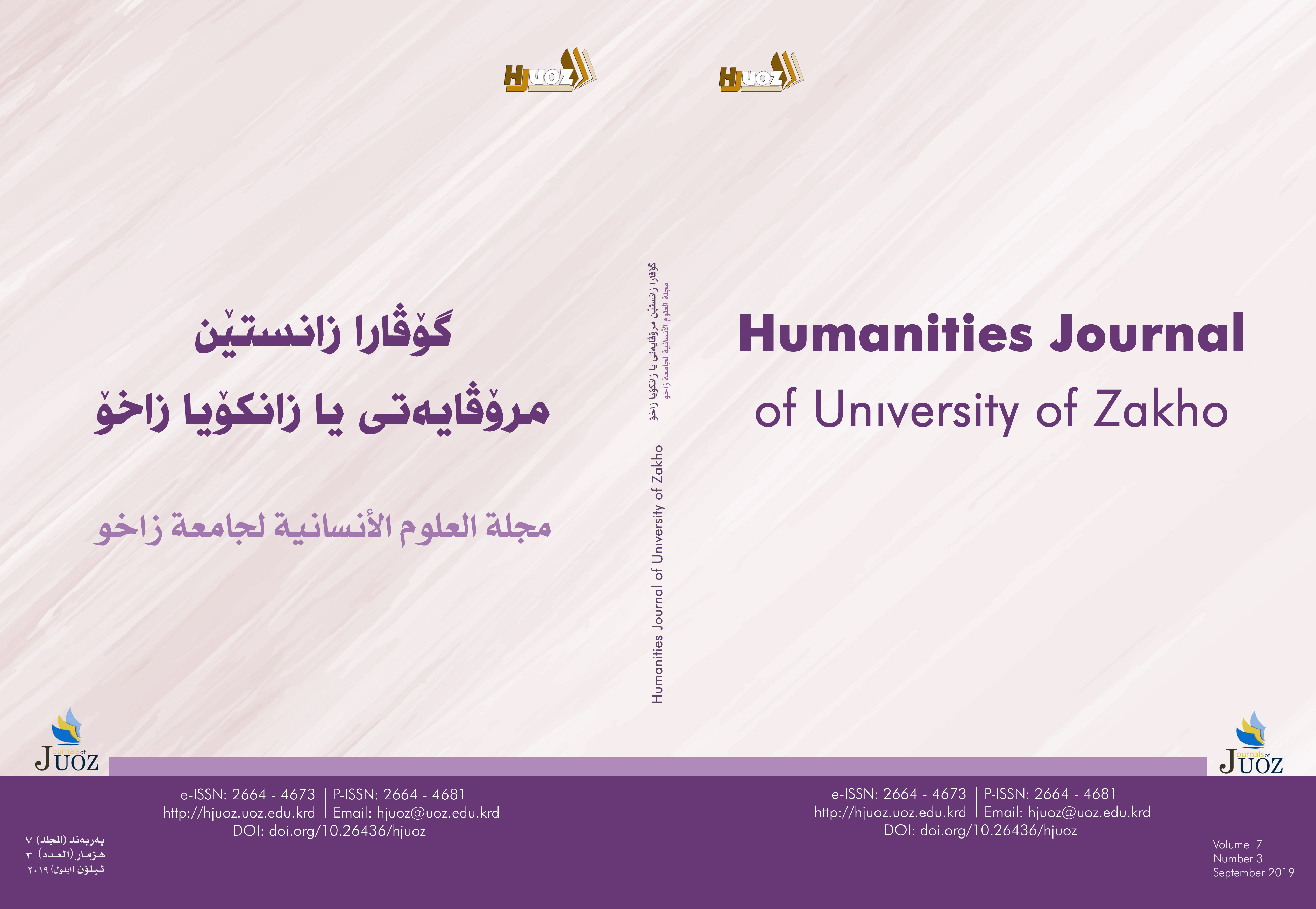 Downloads
How to Cite
Abdulkarim, C. A., & Saeed, I. (2019). Mehmed Uzun as a Representative of Modern Kurdish Narrative. Humanities Journal of University of Zakho, 7(3), 391–399. https://doi.org/10.26436/hjuoz.2019.7.3.523
Section
Humanities Journal of University of Zakho
License
Authors who publish with this journal agree to the following terms:
Authors retain copyright and grant the journal right of first publication with the work simultaneously licensed under a Creative Commons Attribution License [CC BY-NC-SA 4.0] that allows others to share the work with an acknowledgment of the work's authorship and initial publication in this journal.
Authors are able to enter into separate, additional contractual arrangements for the non-exclusive distribution of the journal's published version of the work, with an acknowledgment of its initial publication in this journal.
Authors are permitted and encouraged to post their work online.