Analysis of the epic "Bersisi Abed" for poet "Faqi Tayran" according to Grimas Theory
Sheelan Y. Mohammad

Abdi H. Mohammad
Keywords:
Structuralism, Narrative science, Grimas, the role of the character, the role of frequency, Faqi Tayran, Barsis Abid
Abstract
Narrative science through a new and structuralist vision attempt to analyze the structure of narrative text. Narrative science and according to the language of the story, narrative grammar and the system controlling all types of narrative science. Grimas as one of the founders of the narrative science worked by facilitating a model of thirty-one roles for (Brob) on six roles under the title of events. Through this theory, the events of the character and the role of the frequency of the narrative, he tried to explore the law and rules of the narrative. A characteristic of Grimas' theory is its compatibility with all narrative texts. In this paper, an attempt was made to analyze some models of the epic "Bersesi Abed" according to Grimas' theory. The epic "Baresisi Abed" is one of the long and famous poetry stories of (Faqi Tayran) and one of the stories full of human conflict, desire and faith.
References
په‌رتوك ب زمانێ كوردى:
1- ابراهیم احمد، دلدار (2017). تیۆر و ته‌كنیكێن ڤه‌گێرانێ پراكتیزه‌ كرن ل سه‌ر رۆمانا (ئالێ دى یێ پرێ)، چاپا ئێكێ، دهوك: ده‌زگه‌هێ نالبه‌ند یێ چاپ و وه‌شانێ.
2- دێره‌شى، سه‌عید (2005). دیوانا فه‌یێ ته‌یران، چاپا ئێكێ، دهوك، ده‌زگه‌ها سپیرێز یا چاپ و وه‌شانێ.
3- ته‌یب، هه‌ڤال سه‌لیم (2006). بونیادگه‌رى د ناڤ ره‌خنا كوردیدا (ژ ده‌ستپێكێ هه‌تا سالا 2003)ى، چاپا ئێكێ، دهوك: ده‌زگه‌ها سپیرێز یا چاپ و وه‌شانێ.
4- سه‌ماره‌، رانیا (2008). ئه‌فسانه‌ و ئه‌ده‌ب، و: حسێن سابیر عه‌لى، چاپى یه‌كه‌م، هه‌ولێر، چاپخانه‌ى شه‌هاب.
5- سورخى، ڕه‌حیم (2013)ز شیكردنه‌وه‌یێكى ڕه‌خنه‌یى گوتارى ڕۆژنامه‌نووسیى كوردى (1918-1932) به‌ پێى ڕێبازى گوتار شیكاریى ڕه‌خنه‌یى، هه‌ولێر: بڵاوكراوه‌ى ئه‌كادیمیاى كوردى ژماره‌ (214).
6- گقوس، بسام (2011)ز ده‌روازه‌یه‌ك بۆ میتۆده‌كانى ره‌خنه‌ى هاوچه‌رخ، و: محه‌مه‌د تاتانى، چاپى یه‌كه‌م، چاپخانه‌ى شڤان.
فه‌رهه‌نگ ب زمانێ كوردى:
7- پرێنس، جیرالد (2011). زاراڤێن ڤه‌گێرانێ، و: جه‌لال مسته‌فا، چاپا ئێكێ، دهوك: پرۆژێ هه‌ڤپشكێ گوڤارا مه‌تین و ڕێڤه‌به‌رییا گشتى یا چاپ و به‌لاڤكرنێ.
په‌رتوك ب زمانێ فارسى:
8- استن. الن، ساونا. جرج (1386). نشانة شناسى متن و اجراى تئاترى، ت: داود زينلو، فرزان سجودى، تهران: سورة مهر.
9- احمدى، بابك (1380). ساختار و تاويل متن، ضاث نهم، تهران: نشر مركز.
10- اخوت، احمد (1392). دستور زبان داستان، ضاث دوم، اصفهان: نشر فردا.
11- اسكولز، رابرت (1393). درامدى بر ساختارطرايى در ادبيات، ت: فرزانة طاهرى، ضاث سوم، تهران: انتشارات اطاة.
12- اسابرطر، ارتور (1380). روايت در فرهنط عاميانة، رسانة و زندطى روزمرة، ت: محمد رضا ليراوى، تهران: كانون انديشة ادارة كل ثذوهشهاى سيما.
13- بارت، رولان (1387). درامدى بر تحليل ساختارى روايت ها، ت: محمد غالب، ضاث اول، تهران: فرهنط صبا.
14- برتنز، يوهانس ويلهلم (1382). نظرية ادبى، ت: فرزان سجودى، ضاث اول، تهران: اهنط ديطر.
15- تولان، مايكل (1383). درامدى نقادانة – زيبا شناختى بر روايت، ت: ابوالفضل حرى، تهران: بنياد سينمايى فارابى.
16- سجودى، فرزان (1382). نشانة شناسى كاربردى، تهران: نشر قصة.
17- سلدون، رامان و ويدوسون، ثيتر (1384). راهنماى نظرية ادبى معاصر، ت: عباس مخبر، ضاث سوم، تهران: طرح نو.
18- طرين، كيت و جيل لبيهان (1383). درسنامة نظرية و نقد ادبى، ت: طروة مترجمان، تهران: روزنطار.
19- مارتين، والاس (1382). نظرية هاى روايت، ت: محمد شهبا، ضاث اول، تهران: انتشارات هرمس.
20- محمدى، محمد هادى. عباسى، على (1381). صمد: ساختار يك اسطورة، ضاث اول، تهران: ضيستا.
21- مكوئيلان، مارتين (1388). طزيدة مقالات روايت، ت: فتاح محمدى، ضاث اول، تهرا: انتشارات مينوى خرد.
22- موران، برنا (1389). نظريةهاى ادبيات و نقد، ت: ناصر داوران، ضاث اول، تهران: انتشارات نطاة.
23- هارلند، ريضارد (1385). درامدى تاريخى بر نظرية ى ادبيات از افلاطون تا بارت، طروة ترجمة شيراز، ضاث دوم، تهران: نشر ضشمة.
فه‌رهه‌نگ ب زمانێ فارسى:
24- انوشة، حسن (1381). فةرهةنطنامة ادب فارسى (طزيدة اصطلاحات ادب فارسى دانشنامة ادب فارسى)، جلد دوم، ضاث دوم، تهران: وزارت فرهنط و ارشاد اسلامى.
25- ريما مكاريك، ايرنا (1388). دانشنامة نظرية هاى ادبى معاصر، ت: محمد نبوى و مهران مهاجر، ضاث سوم، تهران: انتشارات اطاة.
26- سبزيان. سعيد، كزازى. مير جلال الدين (1388). فرهنط نظرية و نقد ادبى، واذطان ادبيات و حوزةهاى وابستة انطليسى – فارسى، ضاث اول، تهران: انتشارات مرواريد.
27- محمدى فشاركى، محسن. خدادادى، فضل اللة (1397). فرهنط توصيفى اصطلاحات روايت شناسى، ضاث اول، تهران: انتشارات سورة مهر.
28- مير صادقى، جمال. مير صادقى، ميمنت (1388). واذةنامة هنر داستان نويسى/ فرهنط تفصيلى اصطلاح هاى ادبيات داستانى، ضاث دوم، تهران: كتاب مهناز.
په‌رتوك ب زمانێ ئینگلیزى:
29-Bal, Mieke (1997). Narratology: Introduction to the Theory of Narrative. Toronto: University of Toronto Press.
30-Barthes, Roland, "Introduction to the Structural Analysis of Narratives",Image- Music- Text, Trans. Stephen Heath, Fontana Press, London:1977.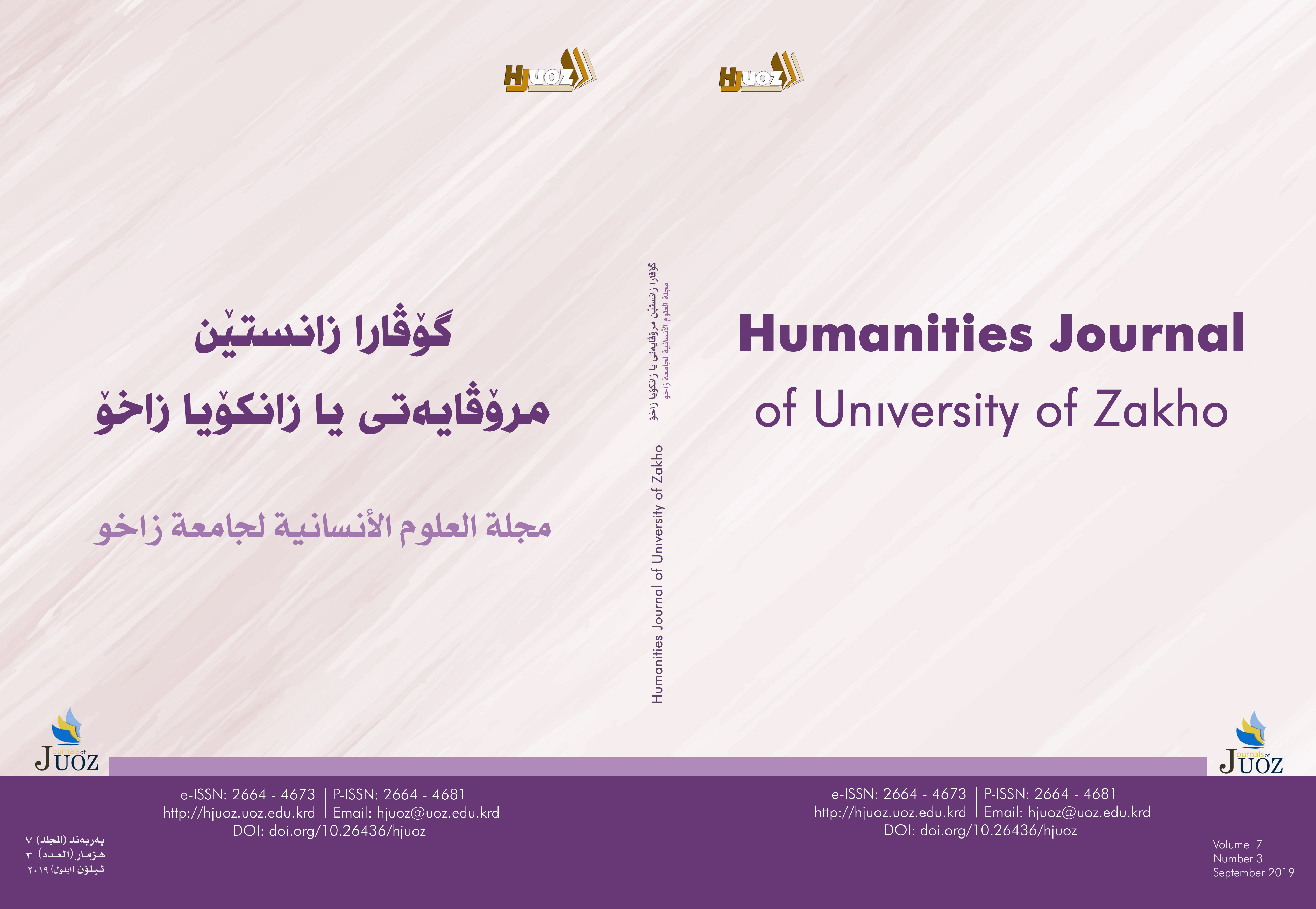 How to Cite
Mohammad, S. Y., & Mohammad, A. H. (2019). Analysis of the epic "Bersisi Abed" for poet "Faqi Tayran" according to Grimas Theory. Humanities Journal of University of Zakho, 7(3), 283-294. https://doi.org/10.26436/hjuoz.2019.7.3.513
Section
Humanities Journal of University of Zakho
Copyright (c) 2019 Sheelan Y. Mohammad, Abdi H. Mohammad
This work is licensed under a Creative Commons Attribution-NonCommercial-ShareAlike 4.0 International License.
Authors who publish with this journal agree to the following terms:
Authors retain copyright and grant the journal right of first publication with the work simultaneously licensed under a Creative Commons Attribution License [CC BY-NC-SA 4.0] that allows others to share the work with an acknowledgment of the work's authorship and initial publication in this journal.
Authors are able to enter into separate, additional contractual arrangements for the non-exclusive distribution of the journal's published version of the work, with an acknowledgment of its initial publication in this journal.
Authors are permitted and encouraged to post their work online.