Critical Discourse Analysis Of Brayati Newspaper Based On Sociological Components –Van Leeuwen's Semantics
AbdulSalam N. Abdullah

Department of Kurdish language faculti human sciences University of Zakho, Kurdistan Region - Iraq

Hussein O. Abdulrahman

Department of Kurdish language faculti human sciences University of Zakho, Kurdistan Region - Iraq
Abstract
The concept of Discourse for its understanding is to be considered as an important topic In terms of Critical discourse analysis. Language is the holder of Ideology; ideology is embodied in behaviors and social practice by the help of Language. Therefore, we could identify the idea and ideology and of these writers' texts through analyzing the given texts.Critical Discourse analysis is related to the linguistics criticism field. To highlight this point that the discourse is a meaningful part of language and it is the holder of targeting characteristics. The advantages are taken from the Van Leeuwen's Semantics and Essential style of Sociology. The aims of this study is knowing the Brayati Newspaper's Ideology, and for this purpose, (26) Volumes of Brayati Newspaper are taken. The important questions of this study are to know whether the newspaper has a specified ideology, and how it was indicated. It is to be concluded from the results of the taken samples' analysis that there is a relationship between the conditions of the period during 11th March Treaty and the influential Article on the newspaper. Brayati Newspaper has a clear article in terms of feelings and power. The influential Article on the Brayati newspaper is a challenging against Iraqi Communist Party, it is the same article in which stands against the Central Bureau of that party.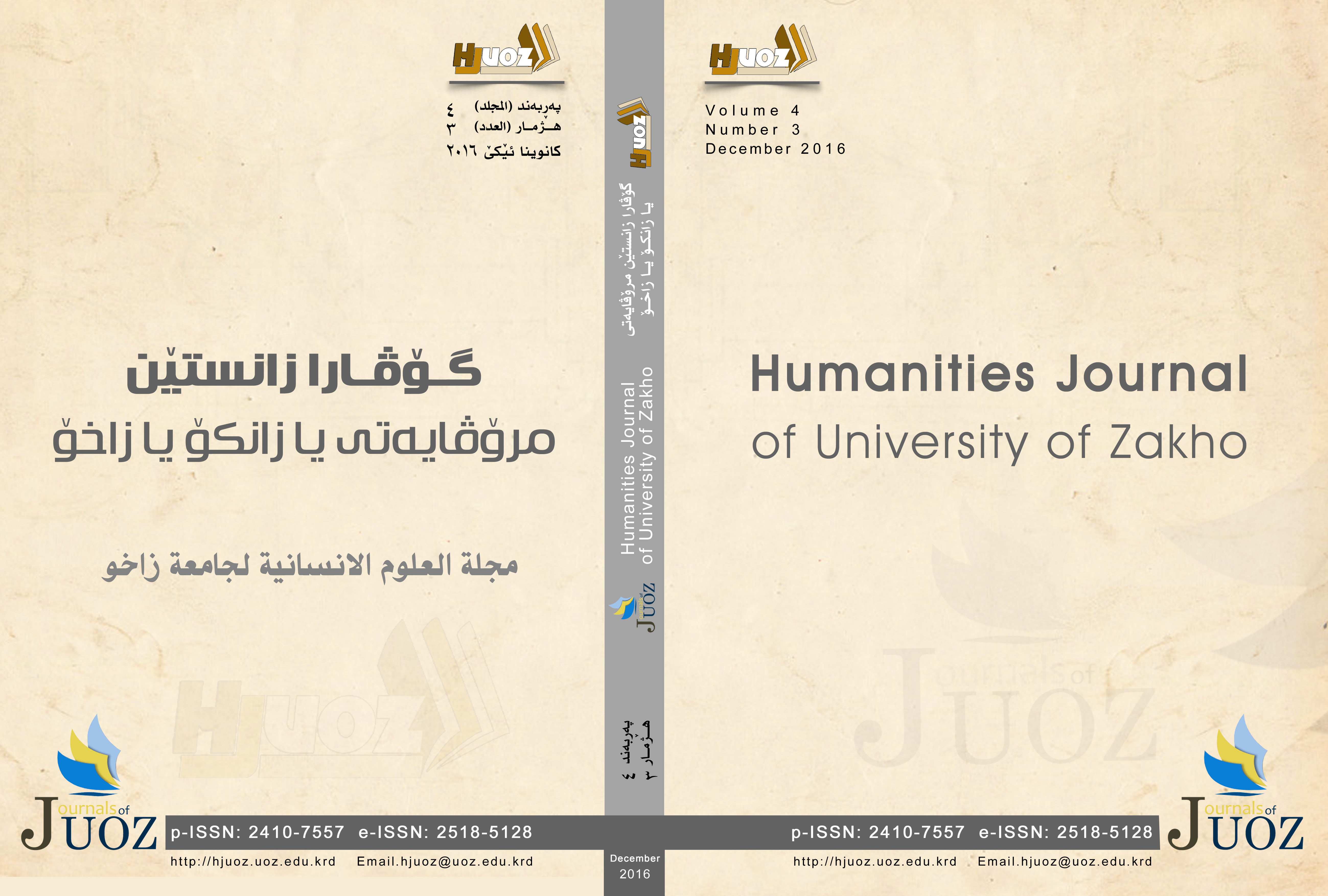 How to Cite
Abdullah, A. N., & Abdulrahman, H. O. (2016). Critical Discourse Analysis Of Brayati Newspaper Based On Sociological Components –Van Leeuwen's Semantics. Humanities Journal of University of Zakho, 4(3), 491-507. Retrieved from https://hjuoz.uoz.edu.krd/index.php/hum/article/view/246
Section
Humanities Journal of University of Zakho
Authors who publish with this journal agree to the following terms:
Authors retain copyright and grant the journal right of first publication with the work simultaneously licensed under a Creative Commons Attribution License [CC BY-NC-SA 4.0] that allows others to share the work with an acknowledgment of the work's authorship and initial publication in this journal.
Authors are able to enter into separate, additional contractual arrangements for the non-exclusive distribution of the journal's published version of the work, with an acknowledgment of its initial publication in this journal.
Authors are permitted and encouraged to post their work online.