Dıffıcultıes faced by turkısh language department students ın translatıon lesson
Abstract
This research focuses on the difficulties of translating written texts between Turkish and Kurdish. It includes the analysis and interpretation of words, phrases and expressions in these texts. In our age, translation is of great importance due to globalization, mixing between nations and the rapid development experienced by different societies, and they can also benefit from each other's experiences and developments through translation. Therefore, we can say that translation is a bridge between different cultures, because it plays an important role in building a strong relationship between nations. We often see that in some translated subjects, the reader does not fully understand or has difficulty in understanding the message expressed, so here we say that translation is not just about changing symbols from one language to another, the main purpose of translation is to convey ideas and is done on the basis of understanding.
References
Durukan, E. (2013). Çeviri KuRAMLARI Giriş. İstanbul: Değişim Yayınları.
EKER, S. (2015). ÇAĞDAŞ TÜRK DİLİ. ANKARA: GRAFİKER.
Hengirmen, M. (2015). Türkçe dilbilgisi. ANKARA: ENGİN YAYINEVİ.
Kurulu, Y. (2000). Türk Dili Çeviri Sorunları Özel Sayısı. Ankara: Ankara Üniversitesi Basımevi.
Mounin, G. (1963). Les Problèmes Théoriques de la Traduction (Edition Gallimard b.). Paris: Gallimard.
TDK. (2015). Türk Dili ve Kompozisyon. BURSA: EKİN.
دزەیى, ع. م. (٢٠٢١). زمانەوانیى گشتى. هەولێر: AWER.
کریم, ئ. ع. (٢٠٢٢). ستراتیژە کۆزمانەوانییەکان لە فێربوونى زمانى دووەمدا. هەرێمى کوردستان: هێڤى.
يوسف, م. ح. (1998). كيف تترجم. الكويت: الطبعة الاولى الجامعة الامريكية.
ئەمین, و. ع. (٢٠٠٩). ئاسۆیەکى ترى زمانەوانى. هەولێر: دەزگاى ئاراس.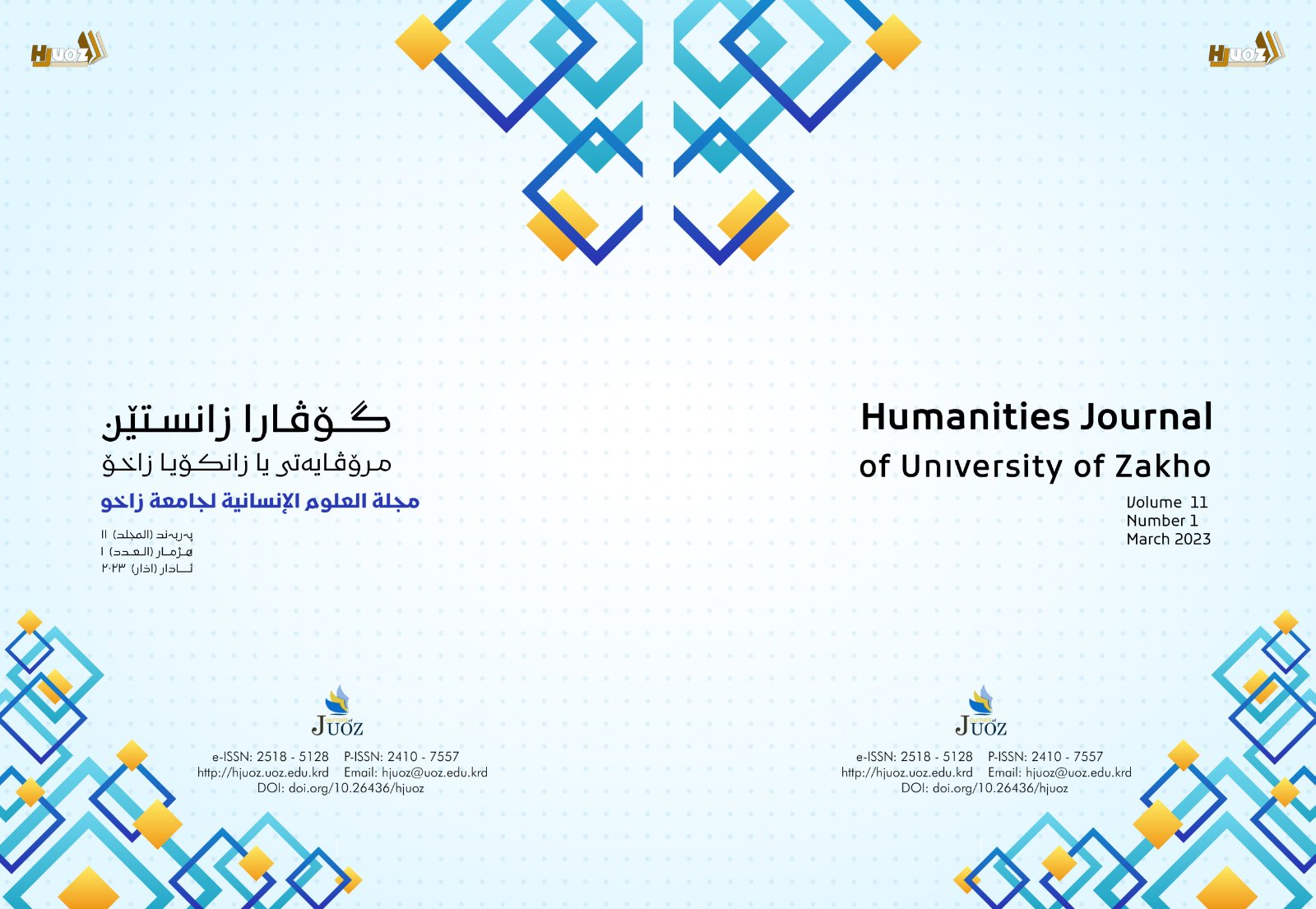 How to Cite
İbrahim, R., & Mustafa, H. (2023). Dıffıcultıes faced by turkısh language department students ın translatıon lesson. Humanities Journal of University of Zakho, 11(1), 79–. https://doi.org/10.26436/hjuoz.2023.11.1.1053
Section
Humanities Journal of University of Zakho
License
Copyright (c) 2023 Hazim Burhan MUSTAFA, Rugaş İsmail İBRAHİM
This work is licensed under a Creative Commons Attribution-NonCommercial-ShareAlike 4.0 International License.
Authors who publish with this journal agree to the following terms:
Authors retain copyright and grant the journal right of first publication with the work simultaneously licensed under a Creative Commons Attribution License [CC BY-NC-SA 4.0] that allows others to share the work with an acknowledgment of the work's authorship and initial publication in this journal.
Authors are able to enter into separate, additional contractual arrangements for the non-exclusive distribution of the journal's published version of the work, with an acknowledgment of its initial publication in this journal.
Authors are permitted and encouraged to post their work online.