The relations of Kurdistan democratic party with Iraqi communist party in Barayti newspaper 1st of Jan. 1974 – 7th Oct. 1975
Mohammed A. Hamd

Department of Human Sciences, Zakho University, Kurdistan Region- Iraq
Abstract
The Brotherhood Newspaper from its first issues till final issues took many matters and questions into account with particular reference of that being obstacle to the September Revolution under the leadership of (Mullah Mustafa Barzani) such as the Iraqi Communist Party enmity towards the Kurdistan Democratic Party (KDP) particularly in 1974, the period of fulfilling the agreement of 11 March was near to its time of 11 March 1974, the Iraqi communist Party was looking forward to making problems and question for the Kurdish Nationalist Liberation Movement. As a result, cadres of this party made many activities and actions against the Kurdistan Democratic Party's cadres particularly in Darbadikhan area. Consequently, it was a key argument of the brotherhood newspaper at that time with particular reference to the KDP relations with the Iraqi Communist Party, this argument is being a crucial issues to the Kurds during this period, in here, the Brotherhood Newspaper referring to this relations, duties and activities of the Iraqi Communist Party against the KDP cadres made many questions, namely: Why did the Iraqi Communist Party make this actions against the Kurdish nationalist liberations movement? Why did it attempt to discard the Kurdish right and destroy it? Why the "Road Nation" newspaper, which was an official mouthpiece of the Iraqi Communist Party was against Kurds, made assault and propagated against the Kurdish nationalist liberation movement? In this case, the Brotherhood Newspaper at that time took some other questions into account. Hence, this article attempts to answer these questions specifically through the discontented of many classes and groups of the Kurdish nation in the southern Kurdistan against those actions of the Iraqi Communist Party. The most preponderant persons and parties made discontenting against the actions and activities of the Iraqi Communist Party were the Kurdistan Democratic Party politburo, teachers, students, Kurdish writers, intellectual, Kurdish youth, organizations, committee of towns, Kurdistan women, lobar, employees, civilians of cities and the people of the southern Kurdistan.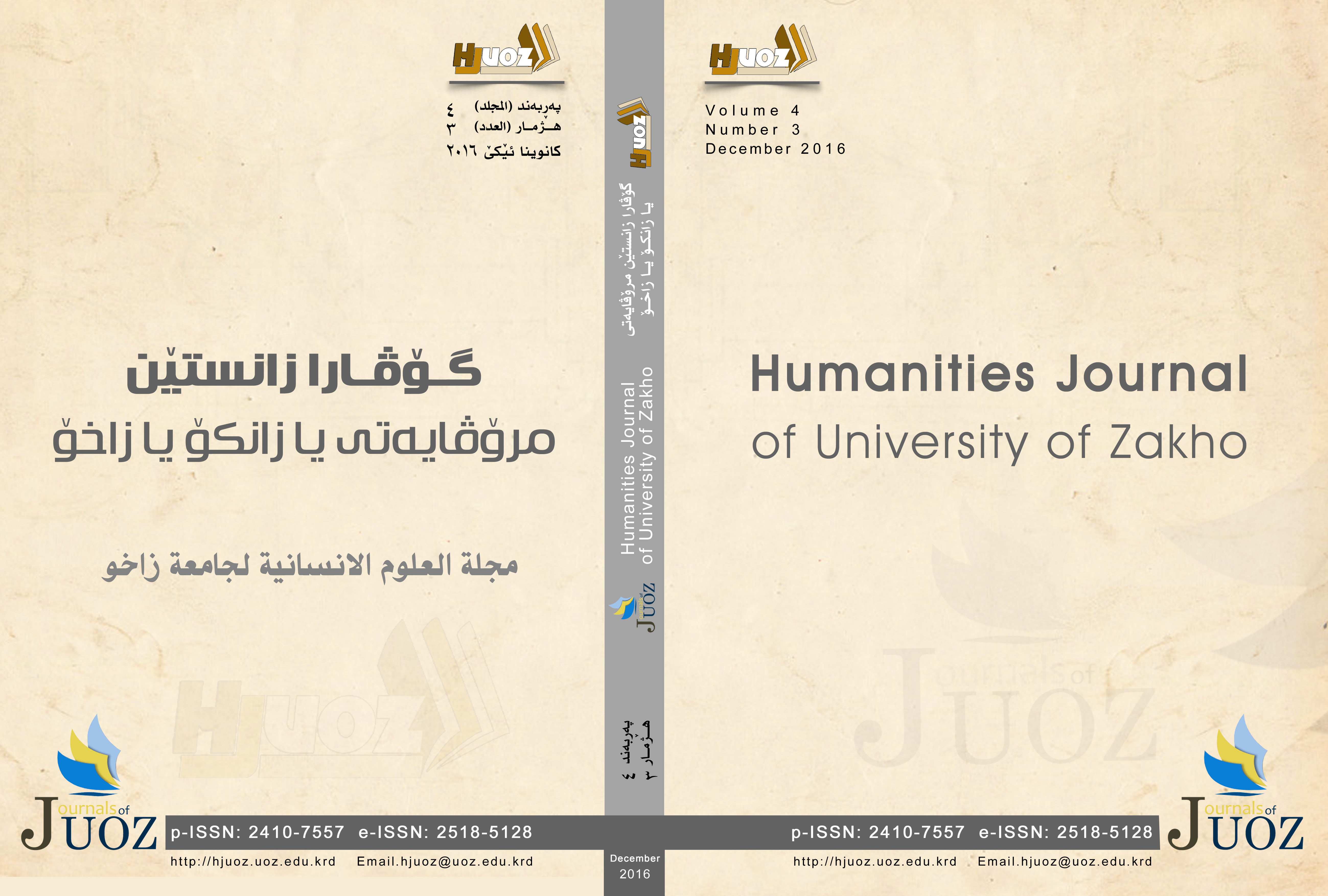 How to Cite
Hamd, M. A. (2016). The relations of Kurdistan democratic party with Iraqi communist party in Barayti newspaper 1st of Jan. 1974 – 7th Oct. 1975. Humanities Journal of University of Zakho, 4(3), 478-490. Retrieved from https://hjuoz.uoz.edu.krd/index.php/hum/article/view/244
Section
Humanities Journal of University of Zakho
Authors who publish with this journal agree to the following terms:
Authors retain copyright and grant the journal right of first publication with the work simultaneously licensed under a Creative Commons Attribution License [CC BY-NC-SA 4.0] that allows others to share the work with an acknowledgment of the work's authorship and initial publication in this journal.
Authors are able to enter into separate, additional contractual arrangements for the non-exclusive distribution of the journal's published version of the work, with an acknowledgment of its initial publication in this journal.
Authors are permitted and encouraged to post their work online.