Analyzing the Epic of Mem and Zin According to Vladimir Propp's Narratology
Keywords:
Ehmedê Xanî, Mem u Zin, Epic, Vladimir Propp, Morphology.
Abstract
This study is an attempt to analyze the plot of Ehmedê Xanî(1650-1707)'s Mem and Zin based on Vladimir Propp's (1895-1970) Narrative Theory who is a Soviet folklorist. The effort is to find out how many functions have  appeared in the epic and to point out seven broad character types that are mentioned by Propp in his most famous book the Morphology of the Folktale (1928).  There are several theories that analyze some basic elements of stories, such as Joseph John Campbell's "The Hero's Journey" and Maureen Murdock's "The Heroine's Journey". But among all, this paper has chosen a narratology structuralism study which has been explained by Propp. His theory is one of the well-spread theories and views all literature genres in the form of certain fixed structures.
References
Works Cited
Aguirre, M. (2011, October). AN OUTLINE OF PROPP'S MODEL FOR THE STUDY OF FAIRYTALES. THE NORTHANGER LIBRARY PROJECT (NLP), 10.
Arvidsson, A. (2006). Vladimir Peopp's fairy tale morphology and game studies. 12.
Brusentsev, A., Hitchens, M., & Richards, D. (2012, July 21). An investigation of Vladimir Propp's 31 functions and 8 board character types and how they apply to the analysis of video games.
Changing Minds. (n.d.). Retrieved January 16, 2023, from ChangingMinds.org: hangingminds.org/disciplines/storytelling/characters/propp_personae.htm
Dogra, S. (2017, Augest). The Thirty-one Functions in Vladimir Propp's Morphology of the Folktale: An Outline and Recent Trends in the Applicability of the Proppian Taxonomic Model. Rupkatha Journal on Interdisciplinary Studies in Humanities.
El Shamy, A. (2019, November 15). Mem u Zin: A Cornerstone in Kurdish Identity/ How Fictional Starr Lovers Represent Nation and State. Majalla.
Jahan, L., Mittal, R., & Finlayson, M. A. (2021). Inducing Stereotypical Character Roles from Plot Structure. Empirical Methods in Natural Languages Processing, (pp. 492-497).
Mirawdeli, K. (2012). Love and Existence: Analytical Study of Ahmadi Khani's Tragedy of Mem U Zin. AuthorHouse.
Propp, V. (n.d.). Morphology of the Folktale (Seventeenth ed.). (L. Scott, S. Pirkova, & Jakobson, Trans.) United States of America: University of Texas Press.
Sundari, T. (2014). An Analysis on The Sleeping Beauty Based on Vladimir Propp Theory. Academia, 11.
Usama. (2020, June 3). History of Kurdistan. Retrieved December 21, 2022, from http://historyofkurd.com/english/2020/06/03/ehmede-xani%E2%80%8E-ahmad-khani/
Wampa, T., & Nakatsu, R. (2008). Anaysis and Generation of Japanese Folktales Based on Vladimir Propp's Methodology. Ubi-Media Computing, 2008 First IEEE International Conference on.
Xanî , E. (2018). Mem u Zin. (F. F. Omar, & M. Cohen, Trans.) Berlin.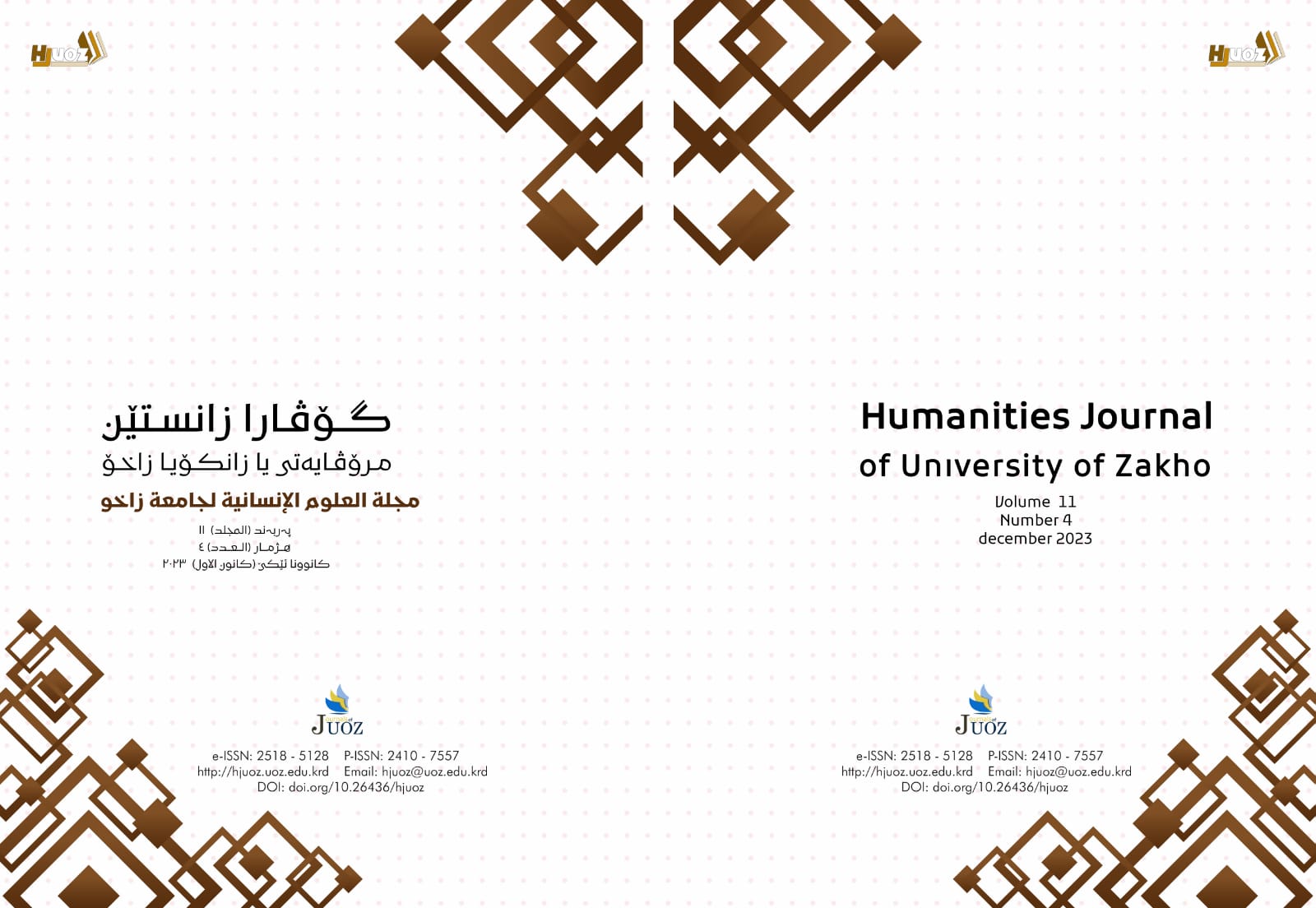 How to Cite
Saleh , C., & Ahmed , S. (2023). Analyzing the Epic of Mem and Zin According to Vladimir Propp's Narratology. Humanities Journal of University of Zakho, 11(4), 783–791. https://doi.org/10.26436/hjuoz.2023.11.4.1200
Section
Humanities Journal of University of Zakho
License
Copyright (c) 2023 Chaware N. Saleh , Saya R. Ahmed
This work is licensed under a Creative Commons Attribution-NonCommercial-ShareAlike 4.0 International License.
Authors who publish with this journal agree to the following terms:
Authors retain copyright and grant the journal right of first publication with the work simultaneously licensed under a Creative Commons Attribution License [CC BY-NC-SA 4.0] that allows others to share the work with an acknowledgment of the work's authorship and initial publication in this journal.
Authors are able to enter into separate, additional contractual arrangements for the non-exclusive distribution of the journal's published version of the work, with an acknowledgment of its initial publication in this journal.
Authors are permitted and encouraged to post their work online.